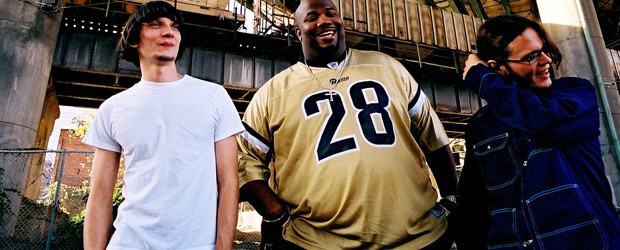 I love the traditions of Southern rock and what it stands for…Rock and roll as a whole stands for freedom…It's a celebration of life, electricity and freedom, man.
story by Jay Gentile

When I first met North Mississippi Allstars' frontman Luther Dickinson, hopping off stage after a high-octane outdoor gig at Chicago's Field Museum this past summer, I extended a hand and – while trying not to sound too much like a nervous, overexcited fan – told him that I think his band is one of the best rock and roll acts around today.
The ever cool, laid-back Dickinson slowly looked up and smiled. "Thanks man," he said. "We try not to suck."
As the leaders of a new generation of hard-core Southern roots rockers, the Allstars have carried on the traditions of their great Southern blues mentors while amassing a loyal, almost cultish following – incorporating fans of rock icons like the Allman Brothers as well as aficionados of psychedelic-influenced jam bands such as Widespread Panic.
Some dancing fans may curse the Allstars for inflicting such soreness upon their legs that they can barely waddle to their cars after a show, but I'd be quite surprised if anyone who has seen them live has ever accused the band of sucking.
The Allstars are fronted by brothers Luther and Cody Dickinson, whose lives are soaked in music to the core. Sons of the legendary yet relatively obscure producer Jim Dickinson – who is best known for playing piano on the Rolling Stones hit "Wild Horses" and for his musical collaborations with the likes of Bob Dylan, Los Lobos, Poi Dog Pondering and Buena Vista Social Club architect Ry Cooder – one imagines that the brothers have music programmed into their very DNA.
With 30-year-old Luther on guitar and lead vocals and 27-year-old multi-instrument virtuoso Cody on drums, guitar, organ, piano, and washboard, the Dickinsons throw out a wide range of influences from rock, blues, roots, punk and pop. They are backed by bassist Chris Chew, a school friend who brings in a more spiritual Gospel influence, and Dwayne Burnside – son of blues legend R.L. Burnside – who steeps the band further in the traditions of the Mississippi hill country.
And the whole idea for the band – which some have heralded as the saviors of Southern roots rock and as one of the most important acts of our generation – came from a hallucination, as Luther explains in a recent conversation with Chicago Innerview:
"I was in my friend's trailer down in way out in nowhere, Mississippi, and we'd been up all day eating mushrooms, and I was laying on this nasty-ass shag carpet listening to this Fred McDowell CD," Luther says. And he had a vision. "I said, 'okay, we're gonna start this band. It's gonna be a loose collaboration of all these great musicians and we're gonna call ourselves, tongue in cheek, the North Mississippi Allstars.'"
Not that being in a band would be anything new. The Dickinson brothers, having spent their childhood watching their father produce with a slew of famous artists including The Replacements, Spiritualized and Paul Westerberg, have been in bands for as long as they can remember. The Dickinsons' first "professional" band was the punk band DDT, which Luther started at age 17.
"In punk rock, it didn't matter if you could sing," Luther recalls. "So I just screamed for years." While Luther cites Van Halen and Black Flag amongst his earliest influences, the real turning point in his life came when he stumbled upon the artist collection from the Oxford, Mississippi-based label Fat Possum, whose roster includes blues legends R.L. Burnside, Junior Kimbrough, Fred McDowell and Furry Lewis, among others.
"I always listened to blues and loved blues, but I thought it was all gone, at least the kind of blues I liked," says Luther. "And it got to a point where I discovered the whole Fat Possum – like R.L. Burnside, Junior Kimbrough, Otha Turner and all that – and I was just like 'oh my God. There's current Mississippi blues.' It blew my mind!…Shortly after that, we started the Allstars."
In 1996, they played their first gig on a bill with 91-year-old fife-and-drum corps legend Otha Turner and R.L. Burnside himself. In 2000, the band released its Grammy-nominated debut Shake Hands with Shorty, made up entirely of covers of old blues songs. They followed it up in 2001 with 51 Phantom, which earned another Grammy nomination and carried on the group's Southern rock traditions through original tunes that Luther had been working on.
And now, with the recent release of Polaris, the Allstars have paved an entirely new direction by marrying their Southern rock/blues heritage with the punk, pop and Replacements-type influences of their formative teen years. While it may seem to some like a radical departure from the band's signature sound, the album had been alive in concept form ever since the beginning of the band, Luther explains.
"We always knew we were gonna name it Polaris and that we were gonna stretch out further than we were at the time," Luther says. "We made our first record in a barn." This album, which the band self-produced for the first time, was recorded at the famous Ardent Studios in Memphis – where the Dickinsons had watched their father work his magic so many years ago.
Yet the album, which features a slew of guest collaborators including Noel Gallagher of Oasis (a friend of Cody), veers the band in a new, more collaborative direction while retaining its rock core. What appears most responsible for this shift is the growing influence and maturity of pop fan Cody Dickinson, who contributed three original songs to the album.
"It's definitely a coming-out for Cody," says Luther. "On 51 Phantom, he had two songs he was working on but didn't want to include them at the time. I'm just so glad he feels comfortable enough…That's really what this record is about: collaboration. If we just played my songs, that would suck."
Cody sings on the psychedelic pop tune "Otay," Burnside takes lead vocals on Junior Kimbrough's "Meet Me in the City," while Otha Turner's fife-and-drums blend melodiously with the speed-rapping Cody Burnside (grandson of R.L. Burnside) on the album's infectious closer "Be So Glad" – which is based around an old chain-gang chant.
"I'm proud to be in a multi-racial band from Mississippi playing rock and roll with my friends from school," Luther says. "I love the traditions of Southern rock and what it stands for…Rock and roll and a whole stands for freedom. That's what it's all about…It's a celebration of life, electricity and freedom, man.
"I always felt that being who I was and growing up where I grew up [that] I had a responsibility to the traditions that I was around to at least be able to understand it," Luther continues. "I'm proud that we have a band where our roots go back further than Nirvana. There's a lot of shallow rock and roll these days."
Luther says that Polaris is not some conscious effort to take the band's rock sound in a more accessible, more mainstream direction. "It's just what happens" when everyone in a group combines all their musical influences without fear, he says. "I'm just trying to be honest and write songs about my life."
While Luther says he grew up watching MTV and would be honored to appear on it, "it seems to be a community of these crazy cartoon character people. I love fuckin' Snoop Dogg, fuckin' Eminem, fuckin' Beyonce. But it's not really us."
Luther says that he is honored if people want to refer to the band as the spearhead of a "Southern Rock Revival," as Harp magazine did in its September cover story on the Allstars, but that at his core, "I just enjoy travelin' and playing music. I really appreciate our fans for letting us live our dream."
Despite Luther's modesty, one can't help but notice an eerie connection between the Allstars' rise to fame and the death of so many blues greats in the late '90s and early 2000s. Luther says that in some cases, he feels that he is carrying the spirits of his mentors with him.
"It's real interesting," he says. "R.L. Burnside retired, Junior Kimbrough passed away [in 1998], the juke joint burned down, Otha Turner passed away [in February of 2003]…You become older and the older musicians that you grew up on aren't around anymore before you realize that you're the old cat. It's like 'what the fuck?' Now R.L.'s retired and Dwayne's on the road."
And the Allstars, no strangers to the road themselves, have averaged 185 gigs a year over the past two years, although Luther says that it seems like more. "We're on our second van," Luther says. "We retired our first van. It had like 250,000 miles on it."
When asked at the end of the interview if there was anything he'd like to add, Luther – who had already discussed his enthusiasm about returning to Chicago – left us with an old Robert Johnson lyric: "Back to the land of California/ To My Sweet Home Chicago."