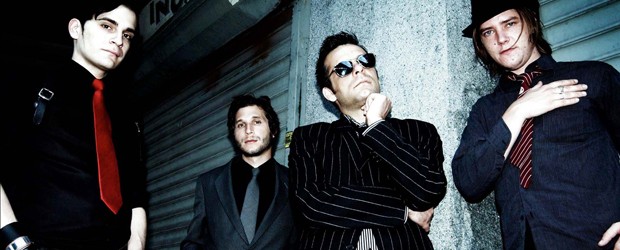 Every song has a really strong identity. They're designed to have a certain pull, not just there filling space. The song has a greater meaning…When I was young, I put on music to be transformed. We want to leave listeners with an experience.
story by Jay Gentile

Interpol is the radio/telegraph signal for the International Criminal Police Organization, the 81-year-old France-based agency that chases drug runners, prostitution rings, terrorists, financial charlatans and slave traders throughout its 181-country member network. It is also the namesake of the internationally-flavored, stylish, and dour New York-based rockers who are currently ushering in a second wave of intercontinental media frenzy over the long-anticipated follow up to their stunning 2002 debut, Turn on the Bright Lights, on Matador Records.
Turn on the Bright Lights turned out to be one of the biggest selling albums in Matador's history, reaching number five on Billboard's "Top Independent Albums" tally and selling a steady 289,000 copies in the U.S., according to Nielsen SoundScan. And with the late September release of Antics, arguably the most anticipated indie album in one of the best years for independent music in a long time, the media spotlight is growing ever brighter.
Yet darkness is a much more common association with the music created by these four mysterious men in dark suits. They have been criticized for a sometimes droning, monotonous and some would say depressing sound, but as Chicago Innerview learned in a recent conversation with Interpol guitarist and founding father Daniel Kessler, a lot of this has to do with the mood of the listener.
For example, the first time I got a chance to listen to the new record, it was a Monday. It was dark, dreary, pouring rain and on top of that, I was driving through a seedy Chicago neighborhood late at night. "Perfect time to listen to Interpol," I thought to myself, recollecting how I had listened to Turn on the Bright Lights for basically the entire duration of the bleak Chicago winter.
But then a weird thing happened. The next day was beautiful and sunny, and I was cruising through a nice neighborhood with the sunroof down. I was still listening to Interpol, only this time, the music actually made me feel…good, happy, at peace. How could this be? Isn't this music supposed to serve as a soundtrack to depression?
"Sometimes people think of us as melancholy and cold," Kessler explained over a clear, static-free line from Berlin, where Interpol was in the midst of a pre-release mini-tour of Europe before invading the U.S. and Canada this month. "There is a feeling there, but it's up to the listener. It depends on what's going on chemically in your mind. Just because you're feeling something, doesn't mean it's sad."
Yet the story of Interpol is one born out of sadness or, more specifically, Kessler's dissatisfaction with his life at the time. The England native (who moved to France at age six and to the U.S. at 11) was depressed in high school and found peace through music. By the time he enrolled in college at NYU, was determined to start a band for the sake of his sanity.
"I knew I had to try this, otherwise I'd be pretty miserable," Kessler said. So one day he approached a man who would later become the most recognizable member of Interpol, bassist Carlos D., who appeared intelligent to Kessler. He would later cross paths with vocalist Paul Banks, another British expat he had known from an exchange program in France. The lineup was complete when Kessler recruited drummer Sam Fogarino, who worked in a Brooklyn record store frequented by Kessler, to replace original Interpol drummer Greg Drudy in 2000.
The result, according to Details magazine, was "a bastard's brew of British expats, an Italian Catholic from Pennsylvania, and a gothy German of Ecuadorian descent" sporting a "retro-bleak aesthetic" playing "old-school angular Brit-rock like the Smiths, the Cure and Joy Division" around New York clubs like the Mercury Lounge – while "dressed as morticians." They were initially compared to the Strokes, but those appearance-based comparisons began to dissipate as people began focusing on Interpol's heavier, more powerful and emotionally substantive sound.
Making music that means something to people is a task that Kessler and Interpol take very seriously. Perhaps this is one reason for their success, and their emphasis on the emotive quality of the music rather than the lyrics is perhaps what makes them so well adored on the global scene. "There's things in our songs that are beyond culture," said Kessler. "They're engaging on an emotional level, it's beyond words. It's not gratuitous…Every song has a really strong identity. They're designed to have a certain pull, not just there filling space. The song has a greater meaning…When I was young, I put on music to be transformed. We want to leave listeners with an experience."
With Antics, that experience is noticeably less bleak and dour, which gives the band a broader sound but also causes it to lose some of the deep emotional impact so omnipresent on Turn on the Bright Lights. The stellar opener, "Next Exit", is an example of a welcome new sound for Interpol that jives well with their style, but some tunes like "C'mere" and "Slow Hands" seem too poppy and a bit awkward. Yet overall, the solid album is more a gradual refinement of the signature Interpol sound than a major strategic departure.
"The production is a little bit brighter, the songs a bit more textured, there are more keyboards," said Kessler, who traditionally starts the songwriting process by laying out a melody or a bridge and letting Carlos D. and Sam run with it musically. The end result is then typically shifted over to Banks, who is responsible for much of the lyrics.
Banks once said he was "resolved I would die in a gutter" during the "real misery" he suffered through the making of Turn on the Bright Lights. When asked if the more hopeful tone of Antics reflects a happier band, Kessler refused to speculate on the motives behind Banks' lyrics, calling the lyrics and the music "pretty complex" creations that could not have possibly stemmed from just one particular emotion or experience.
Fair enough. Life is complex. And it's refreshing to see artists who outwardly appear as image-conscious as Interpol care so deeply about the inner meaning and feel of their music. They are also one of few bands who are able to artfully extract beauty from bleakness in such a powerful way, uplifting listeners in the process. So as long as Interpol is in charge, bring on the police state.
Interpol :: with Secret Machines :: Riviera :: October 17.