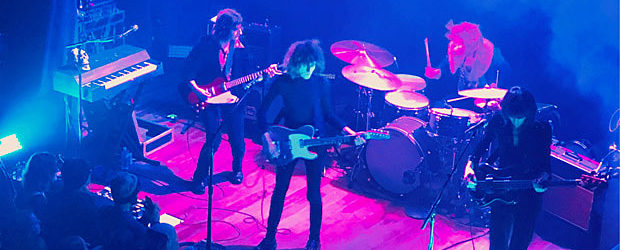 LIVE REVIEW: TEMPLES RETURN TO CHICAGO WITH SOME HOT MOTION
It is safe to say that a concert was outstanding if any band member goes out into a sold-out audience to crowd-surf after their encore. And that is exactly what James Bagshaw, lead guitarist and vocalist from Temples, did to close out a supercharged evening at Lincoln Hall on Friday, January 31. Temples came to Chicago ready to rock. And did they ever.
Starting with their newest album Hot Motion, they opened with a rumbling build-up tune called "The Howl," followed by songs including "Certainty" (off their second studio album, Volcano) and "A Question Isn't Answered." Within the first three songs of the evening, the Kettering, Northamptonshire band physically manifested their "buy in" for the night. To rock. And to do so passionately.
Their assortment of songs provided balance but maintained high energy, keeping feet moving and heads banging. "Here we are now…a sold-out show from a couple of dickheads from England," Bagshaw deadpanned in between tracks with the room laughing, clapping, and causing even the bandmates to chuckle. Meanwhile, tracks like "The Golden Throne," "Shelter Song," "Oh the Saviour," and "Keep in the Dark" triggered the most energetic movement and singing along from fans.
The way each band member could perform in synchronization without even making eye contact was remarkable. Major props to the drummer, Rens Ottink (newest member after Sam Toms left in 2018), for rocking an outstanding fur coat, which he never took off in the packed house. The intricate detail of their instrumentation complimented the colorful strobe lights, helping the band cultivate a full artistic experience.
Temples returned to a filled main floor and balcony level to perform two more encore songs, both coming from their freshman album, Sun Structures: "Sun Structures" and "Mesmerise." And the night would finish as it began: with nothing but more rocking hot motion. BY MICHAEL KOCOUREK