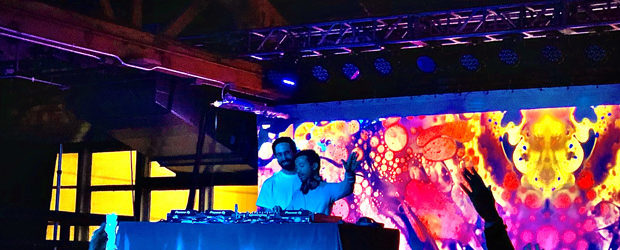 LIVE REVIEW: A FRIDAY NIGHT PARTY WITH TORO Y MOI
"Let's have a party, Chicago!" From the moment people trickled into House of Vans on Friday, January 24, Chaz Bundick (a.k.a. Tori y Moi) greeted fans with a smile and his ever-charismatic stage presence. Not just any concert, the skate warehouse was transformed into an all-sensory audio and visual experience brought to the next level through eye-filling and ear-pleasing variations of classic house, French touch, disco, techno, and live liquid artwork.
Walking onstage, Chaz moved in his gleeful and passionate manner, swaying side to side as he approached the decks. Alongside pianist and backup vocalist Anthony Ferraro, Chaz transitioned into his set with a heavy dose of nostalgia via the opening theme song to '90s Friday night TV show Family Matters (yes, this is the show with Urkel). With heads turning and faces smiling, he followed it up with a tease of Roy Ayers' "Chicago", not only acknowledging the city he was playing in but paying tribute to one of the original homes of house music.
Chaz's set took the crowd through a musical voyage of his influences and interests while teasing new material, working in throwbacks to tunes like "Waiting for Tonight" by Jennifer Lopez and "We Found Love" by Rihanna feat. Calvin Harris, and even digging deeper from his Les Sins project at Carpark Records. With an unmatched ability to read the audience while directing the night's sonic expedition from start to finish, Bundick took genuine care of all attendees to curate an extraordinary artistic experience. Yes, Chaz knows how to party. But most importantly, he also knows how Chicago likes to party. BY MICHAEL KOCOUREK